Right Folks,
I'm all for a dialling it down after the holiday season, but a traditional hearty meal is hard to beat when it is cold outside. I also find that slow-cooked food is always a good choice when you need a crowd-pleaser for a big but relaxed family/friends/crew dinner. Enter, Lancashire-Hotpot. This is a classic British dish which originates in, wait for it, Lancashire, in the northwest of England. It is a working-class food par excellence, a treat though, because meat in general was a treat. It is slow-cooked with not much prep time. This type of food does not require a lot of attention after the initial stage. Fun or sobering fact, depending how you look at it, is that since many households had no cooking facilities people would take their Lancaster Hotpot stew to the nearest bakery and cook them in the baker's oven, picking it up hours later. If you want to be true to the original, which I am not, you need to use lamb stock and add oysters before baking. Traditional sides are pickled red cabbage and beetroot, as well as Lancashire cheese.
For the Lancashire Hotpot that I made just the other day during our Atlantic Ocean crossing, I used lamb shoulder. You can also use lamb leg if you want, preferably no bones. I have seen in a restaurant once a Lancashire Hotpot made with lamb shoulder and lamb cutlets. It created a lovely presentation, however the cutlets were a bit dry. So, avoid bones. A quick note on the stock. I use a mixture of veal and chicken stock. Ideally, you should use homemade stock. However, you can use some type of the liquid stock you can find on supermarket shelves for the beef or veal portion. There are some decent options out there. But you really should be able to make a chicken stock. It is very easy and I very handily have a video and recipe on the subject. Finally, at the end of this recipe and method there is a quick video of the Lancashire Hotpot that I made for the crew.
Ingredients:
1kg or 2lb Diced Lamb Shoulder
1 Litre or 2 Pints Veal Stock
500ml or 1 Pint Chicken Stock
4 Carrots - Smallish dice, it doesn't have to be perfect.
4 Sticks Celery - Same dice as carrots.
3 Onions - Same dice as carrots and celery.
6 Cloves Garlic - Minced or finely chopped.
A little rosemary and thyme.
10 Potatoes - Peeled and sliced uniformly thickly (6mm - 1/4 Inch)
Method:
peel and wash all your vegetables.
the meat in small batches in a very hot frying pan, until coloured nicely.
in a sieve or colander over a bowl to collect the excess oil.
the vegetables in the same pan. All those bits of lamb stuck to the pan will mingle with the veg.
the lamb to a large heavy pot.
This is the pan I use. It's absolutely fantastic. Will last at least 3 generations.
the vegetables to the pot. Salt and pepper.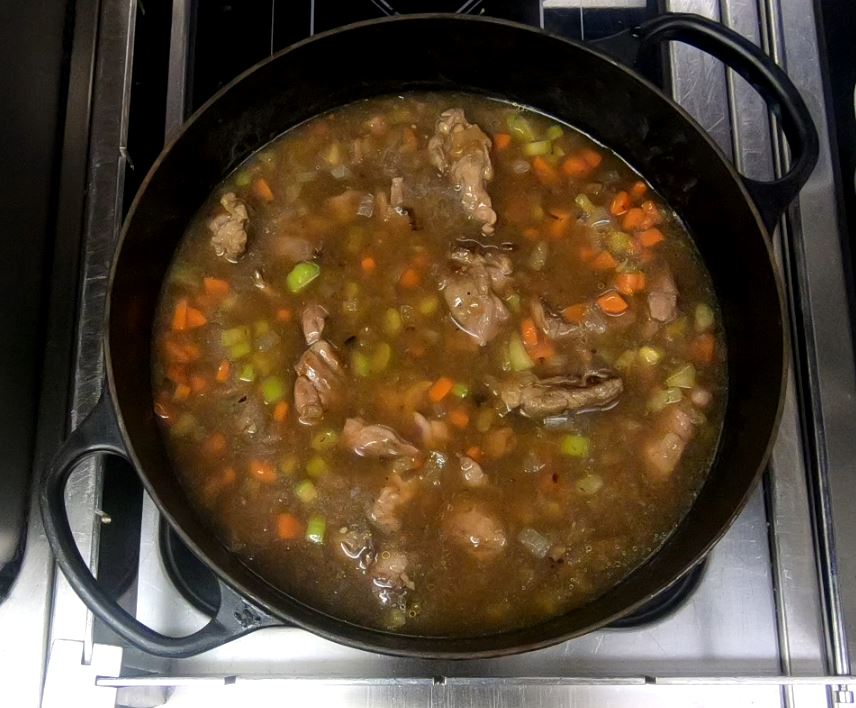 the stock, more salt and pepper as needed, and bring to the boil.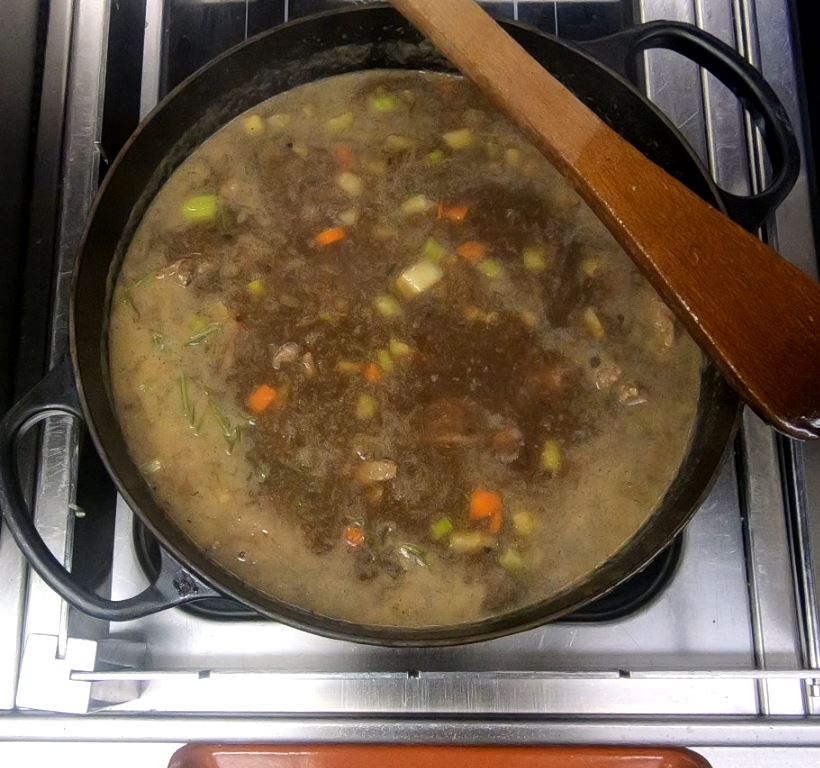 the garlic and herbs and enough water to cover the meat and veg.
gently, a simmer, for 90 minutes. Then lift the meat and veg out of the pan and place it into an oven proof dish.
the liquid down until it is thick. I don't add cornflour, but you can. You need only 400ml of liquid just to cover the meat in the ovenproof dish. As it reduces, it will become thicker and the flavour will intensify.
the potatoes over the meat. I try to do it in a fairly nice pattern, because presentation matters. Brush or spray with a little oil, salt & pepper.
at 140C or 280F for 45 minutes.
with some steamed greens.
This was a hit with the crew. Let me know your results.
Michael xx