In this recipe I will explain how to make a pumpkin puree using the thermomix. Enzo, my man in Capri calls this magnificent beast a zucca, which translates to pumpkin. It feels more like a massive butternut squash to me, but I guess it's the same family anyway. This method produces the smoothest, tastiest, most natural butternut squash puree you have ever tasted. It's an awesome side dish alternative to a carrot puree or mashed potatoes.
We are talking a big ass vegetable here
Super simple with very few ingredients.
Ingredients:
1kg Pumpkin or Squash
50g Butter
150g Parmigiano-Reggiano (Optional)
Method:
Firstly, chop it into more manageable chunks so you can give it a rinse under the cold tap. I hope this little video helps with this process. Summon your inner samurai and go for it!!
Depending on the skin, you can try and use a peeler. I use a knife.
After you'd peeled it, give it another wash.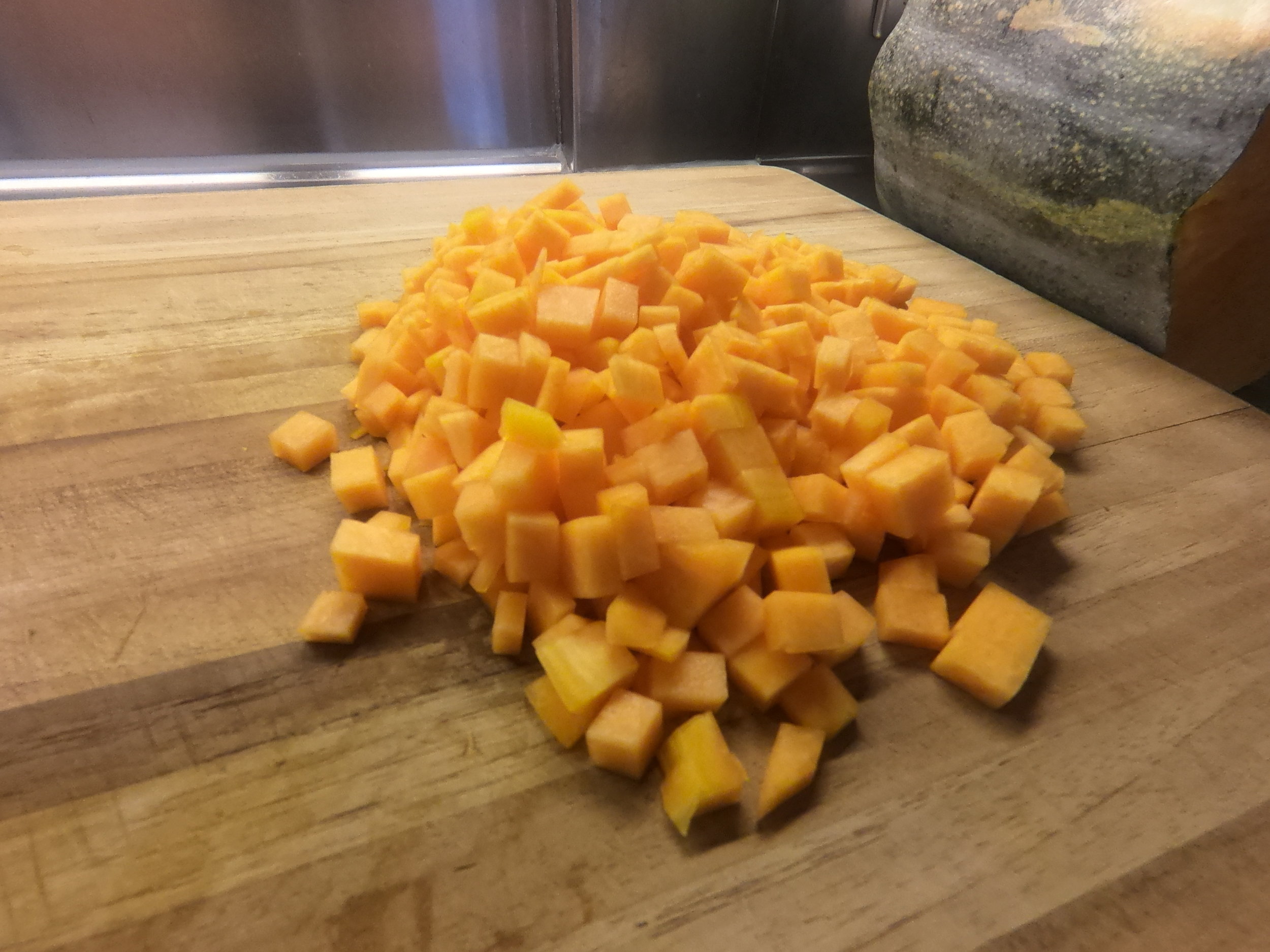 Roughly chop the thing up.
Fill the water up just over half way in your thermomix, set the timer to 30 minutes, temperature at varoma and speed number 3. Put the lid on, take the middle plastic cup out. Fill the steamer basket up with the butternut squash, place it on top and go do something else.
Keep checking to stay in control.
Ensure you have at least half the jug full of water. Add more if need be.
It will appear as if you have lost about half the volume. Don't panic, the squash is full of water and at the end you will be left just with the intense pulp.
You could be extra cheffy and save the water for a vegetable stock, it's going to be full of flavour.
I will explain what I do but for now just keep going...
Terrrrible photo here folks but there was steam going everywhere. Plus two hands were needed.
When the timer goes off check if the pumpkin is nice and soft. Use the lid as a tray to avoid getting the residual water all over the place.
Speed 8, 1 Minute, scrap down the sides and give it another blitz if nessesary.
Here is the optional extra. I take the liquid in the thermomix and put it in a saucepan and reduce it all the way down until there is 1 tbsp of orange thick liquid left. I add that through the puree for extra flavour.
This is what you got. Looks a bit liquidy yes? Drain in in a sieve for 30 minutes. You can add that liquid too, to the reducing water. My method is to try and capture all the flavor and not let any escape.
Put the puree in a sauce pan and put on a low to medium heat. If it is still a bit thin, stirring occasionally, allow some of the water to evaporate. Also, at this stage add you intense reduced steaming liquid.
I fear I am beginning to make this sound complicated. It is not.
You can now add the optional parmesan and you are ready to serve. You can use this as a complement to meat or fish, you can use it as a dip or add an egg and use it for a pasta filling.